DONATION
IFCA

Needs Your Support
Please Make the US-Japan Alumni Team Members' Continued International Partnership Possible by Making Tax-Deductible Donations to IFCA Today!
"$20 buys a youth a day pass to travel around Tokyo on the subway; $50 pays for a member of the alumni team's meals for a day; $100 pays for a member's transportation from Tokyo to Kansai; $150 pays for a team-building dinner; and $1000 pays for a round-trip airline ticket between Tokyo and Seattle.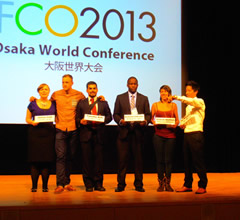 "One of the most powerful things that I saw in Japan was how our diverse experiences, when paired with a common desire to see change and improvement in the foster care system, bridged cultural gaps and crossed oceans. From that true collaboration and a willingness to be authentic and transparent, I think we all saw something pretty amazing. "
Janice 23 years old-Seattle, WA
Please Also Help Japanese Child Abuse Victims and Tsunami Disaster Affected Youth Receive Trauma Therapy From Qualified Therapists Trained by the IFCA-Sponsored TF-CBT Curriculum.
A $50 check from 10 supporters like you will give one Japanese counselor a 130-page manual and a 3-day intensive TF-CBT course, and follow-up televised consultation by a certified American trainer and a clinically-experienced interpreter.
With a $100 donation, you will receive 2 very special full color publications authored by IFCA's alumni team members and other child welfare specialists delivered to your door. (Available in both English and Japanese)
Donate by Check
You can mail your check to:
IFCA
6542 4th Ave. NW, Seattle
WA 98117
For questions regarding
donations to IFCA
Email info@ifcaseattle.org
Phone: 1-888-447-IFCA (4322)